All of our partner advisers have access to the whole market so that you get the best deal available.

Mortgages made easy. We'll match you to the perfect broker to help secure the best mortgage deal for you – fast, easy and free. Try our 60 Second Mortgage Qualifier.
60 SECOND MORTGAGE QUALIFIER
Being a contractor is a common way to work and this means questions about contractor mortgages are pretty common. Part of the problem is that the definition of a contractor can be very varied! And while it is more difficult to get a mortgage as a contractor than other types of employment, there are plenty of lenders that we deal with who will consider it.

This guide walks through the steps to understanding contractor mortgages and the types of factors that will affect your borrowing.

Who Can Get A Contractor Mortgage?

You are employed working on a fixed or short term contract – this is often government work or for a charity


You are self-employed working through one main company – this is often a tradesman such as a builder or an electrician


Some lenders will consider one or the other while some will consider both. That's why a mortgage broker is the best idea as they will know which lenders will consider which situations.

When looking at contractor mortgages, lenders will consider a few main points when deciding if to offer you a mortgage:

Type of contractor you are

How long you have worked in the industry

How long your contract has left

How long you have been a contractor

If your contracts have been renewed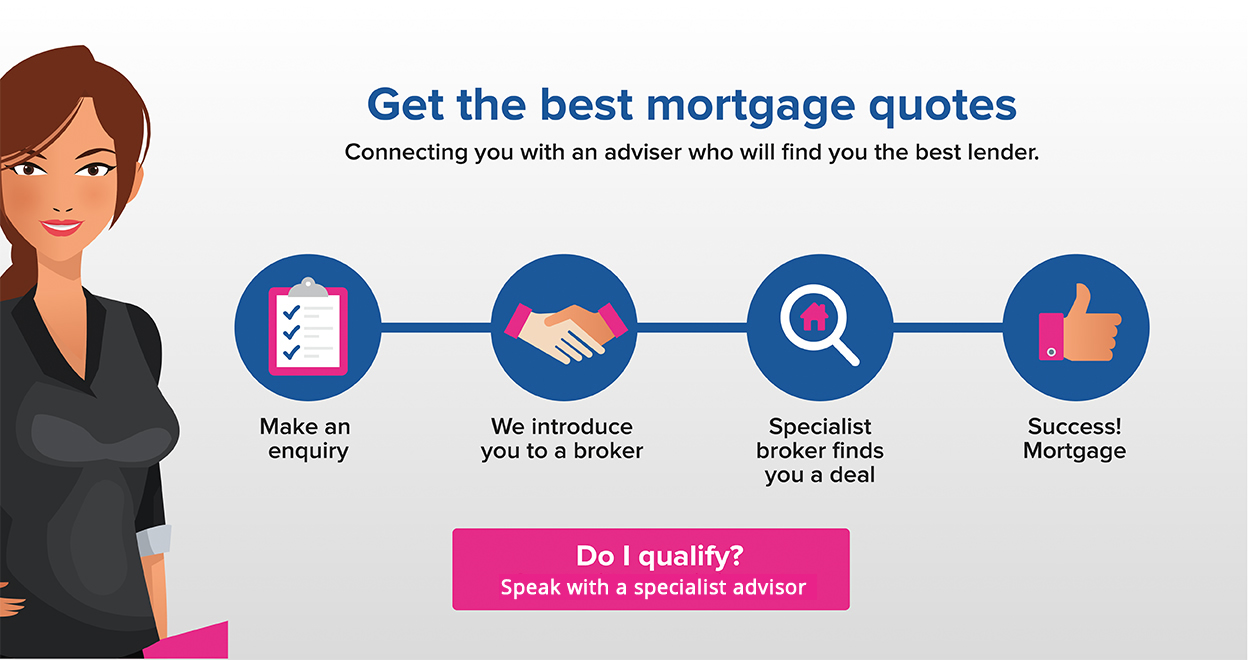 What kinds of mortgage are available to contractors?

There are five main options for contractor mortgages depending on exactly what type of contract you have and what work you do:

Self-employed contractors – you can usually get a mortgage straight away as long as the contract is at least six months

Umbrella company employees – usually 12 months working history is needed

Agency works – at least 12 months working history is needed

Employed short term or fixed term contractors – previous experience in the industry is usually needed

Zero hour contractors – at least 6 months working history is needed

Self-employed and sub-contractor mortgages

Anyone who registers as self-employed with HMRC is classed the same, whether they complete self-assessment or have an accountant do it for them. Self-employed contractors can also include anyone sub-contracting to a number of companies.

Getting a mortgage in these situations can be difficult if you have less than 12 months work in the industry. Some may accept six months and others when you first set up by working out the day rate for your contract. They will look for the contract to be at least six months and you to have some work history in the industry.

Lenders often look at the net profit for sole traders and partnerships or salary plus dividends for limited companies.

Short term or fixed term contractors

More lenders will consider short term or fixed term contractors than other types of contractors, as long as they have been trading for at least six months and have a similar length of contract ahead of them. If your contract has been renewed at least once, this will also help to improve the situation for lenders.

If you have never had a contractor renewed, there are some lenders who will still consider you, even if you only have six months experience behind you. They may cap the loan to value ratio at 80%.

Umbrella contractors

There are specialist lenders who deal with umbrella contractors and who can help if you meet their criteria. Normally, at least 12 months experience is needed in this situation and that the contract has been renewed at least once.

Zero hour contracts

You may also need a specialist if you have a zero hour contract because many lenders will see you as too high risk. A track record of 12 months income will usually be needed but some companies will consider less.

Agency workers

Since the Agency Workers Regulations (AWR) were introduced in 2011, temporary works get some of the rights of permanent employees and this makes it less of a risk for lenders. This means some lenders are happy to consider agency workers income for mortgages as long as there is at least 12 months experience behind them.

Contractors on maternity or paternity leave

It can be tough to get a mortgage when you are a contractor on maternity or paternity leave, depending on the impact that this has on your income. Some may consider it if you know you are going to have an increase in income in the near future.

IT contractor mortgages

IT contractors are treated much the same as other professional contractors such as accountants and solicitors. The length of the contract, how long you have worked in this way and how long is left on your contract will play a part. There are also lenders who specialise in IT contractor mortgages.

How much can you borrow?

There are three main factors that play a part in how much you can borrow on a contractor mortgage:

The system that the lender uses

How the lender works out your affordability

The type of income you have

For example, if you are a PAYE contractor looking for a mortgage, the lender will usually look at your gross basic salary plus regular bonuses and overtime to work out your income, although some cap supplementary income at a certain level.

If you are self-employed, then a lender may look at your contractor day rate to work out how much you can borrow. In this situation, they will work out an income based on 48 weeks in the year then times this by 4-5 depending on their rules.

So if you earn £300 a day, a 4 times lender could give you up to £288,000 while a 5 times lender could go as high as £360,000. There are even some lenders that will consider 6 times your income.

How much deposit do you need?

For low-risk borrowers, the deposit could be as low as 10% so you could borrow 90% of the property's value. For this, the contract needs to be renewed at least once and have at least six months left to run. Some lenders might want a 15-20% deposit if there are previous bad credit problems or non-standard construction on the property. On the other hand, a few might go as high as a 95% LTV.

Help to Buy scheme

The government's Help to Buy scheme is aimed at increasing the deposit for borrowers to help them get on the property ladder. Some contractors can be eligible for the scheme but need at least 5% deposit themselves. The property must also be a new build worth up to £600,000, the main residence and a capital repayment mortgage type.

They will provide a 20% equity loan which means you would then need a mortgage for 75% of the value of the home. There's no charge for the loan for the first five years of its duration either. However, the criteria to qualify is quite strict and sometimes contractors find they are turned away.

Shared ownership contractor mortgages

The Shared Ownership scheme lets you purchase a percentage of the home and rent the remaining from a developer or housing association. This is often used at the affordable residential property market and lets you purchase anywhere from 25-75% of your property via a mortgage.

You can get a mortgage of this kind when you are a contractor but there are fewer options available.

Offset mortgages

With offset mortgages, you can balance savings against your mortgage balance, and you need to have linked savings account with the same lender to get this kind of mortgage. The balance of the savings is either offset against the balance or you only pay interest in the difference between the two figures.

This can be a good option for contractors with substantial savings as they are quite flexible. This lets you overpay one month and pay less the next if you need to. Not all lenders consider this type of mortgage, but a broker can look for ones that do.

Self-built mortgages

A self-build mortgage is where you are building the property yourself or overseeing it. Most lenders allow up to 75% of the value of the plot and 60% of the build cost. Once built, the mortgage can be up to 70% of the property's value. Not all mortgage companies offer them but if you have a good deposit and the right expertise, they can be found.

Can you get buy to let mortgages as a contractor?

Contractor income is less complex when it comes to buy to let properties than with residential properties. Lenders will look more at the viability of the investment, rental income forecast and other criteria rather than your income. As long as the lender is happy you can pay the mortgage if the property is unoccupied, then it is usually okay. They will look for a minimum income of around £25,000 in most cases.

Contractor mortgages and bad credit

If you have a bad credit history, then the number of lenders available will be reduced but there are still companies who will consider you. A lot depends on the type of bad credit, how long ago it was and your recent contract history. A broker can help work through the options.

Contractors on maternity or paternity leave

When you are considering a contractor mortgage there are a few additional expenses to be aware of that will need to be paid. Not all will apply but it is worth remembering them. Examples include:

Not all of these will have to be paid but when you are working out how much you borrow and what you have to spend on the property, it is worth checking what else you might need to pay to complete the purchase. Then you can factor these into your decisions and calculations.